Web Designer
As a web designer, my skill sets integrate coding, interface design, and graphics creation and manipulation. In addition to my knowledge of HTML (hand-coding, Dreamweaver), Javascript, CSS, PHP, Flash, and Perl, I also have extensive experience with Photoshop and Illustrator.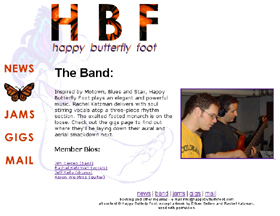 Past projects:
The CDC Group: I was brought on to design an animation for a holiday greeting e-mail blast, which I executed in Flash. In order to accommodate various users' e-mail/web environments, I also wrote/developed plain-text and HTML greetings in addition to the animated content provided in Flash and Quicktime formats.
The Chicago Network: Coded to a spec I received in PDF format, this website demanded a sophisticated Javascript menu and extensive use of external CSS, and was done on a very tight deadline.
Tautologic: The web site was designed to coincide with - and visual complement - the band's first CD release, West Is North, East Is South. In addition to serving as the primary conduit for news about the band and CD sales, the web site itself received acclaim from music critics who reviewed the CD.
Happy Butterfly Foot: In addition to creating logos and other artwork for the band, I coded the site in HTML and Javascript and implemented a PHP-based calendar to enable the band leader to quickly and easily update his performance schedule.
HealthQuiz was an internet start-up founded by the former head of the anesthesiology department at the University of Chicago Hospital, Dr. Michael Roizen. I designed and coded the web site, using HTML and Javascript. The promotional materials contributed to the product's adoption by several hospitals and clinics throughout Chicago.
EthanSellers.com: The site is designed to promote my services to a wide audience that includes business clients and fellow musicians and artists. It is important to me that my designs are simple and use technologies that are sufficiently well-established, so that visitors with a wide range of web browsers could reliably view the site.