Vocal Coach
First things first: I'm here to help you sing YOUR music the best you can. From the teaching studio to the stage and/or the recording studio, I will work with you to make the best use of your voice - singing in tune and with healthy technique.
My teaching method starts with the basics and then moves on to apply these lessons to the repertoire the student wants to sing. Different students have different needs, but - depending upon the student's needs - I can work with each student to:
- Cultivate consistent breath support and build and integrate their chest and head registers, developing range, power, and flexibility.
- Identify trouble spots in their repertoire and develop specific exercises and approaches to develop the technique necessary to resolve those issues.
- Provide them with practical advice for live performance situations and coach them through studio recording sessions, so that the lessons learned in the teaching studio are not lost in the recording studio.
Here's what some of my students have to say:
"Ethan has taught me techniques that have enabled me to perform songs that were inaccessible to me a year ago. He's taught me exercises to maximize my vocal range and worked with me on the fine points of accurate phrasing and melody. As a full-service instructor, he has also coached me on issues of music theory, live performance and studio techniques. I would recommend Ethan Sellers to anyone, novice to professional, who desires to create or improve their vocal technique."
- Bob Siebecker
"Lessons with Ethan have helped my singing voice tremendously. My support and tone have become stonger and more full, and my range is greatly expanded. When I came in, I had difficulty hitting an E over C, and now there are sessions where I find myself hitting an A. Working on my own compositions has improved my delivery and helped bring the meaning to the forefront without sacrificing in the performance."
- Tom Fort, vocalist for Cobalt and the Hired Guns
"I'm a middle school English teacher, and I've been a musician my whole life. I've been playing guitar as my primary instrument for 16 years. I started singing only about five years ago, but always ended practice or shows with a scratchy throat that took a couple days to heal. I needed lessons not only for the sake of my music, but my long-term health and viability in a profession that relies on my ability to speak most of the day. When it came to singing and voice lessons, I'd always been pretty turned off by traditional vocal instruction, as most teachers insisted I learn show tunes or Disney songs, or made me feel like I was in a kindergarten classroom. Ethan Sellers skips all that. He isn't in to wasting your time, and he's not teaching just because he wants your cash. His instruction is purposeful and well thought. After only a couple months of lessons I have not only developed better control of my vocal chords, but my vocal endurance is no longer a concern. From the standpoint of a professional educator, I cannot recommend a better instructor for not only voice lessons, but for music lessons. The guy has a talent for teaching that is rare in music instructors, as he is both an excellent musician and teacher."
- Matt Wdowiarz, vocalist for Haymarket
"I have been taking voice lessons from Ethan for about four months. I decided to take voice lessons because I had recently started singing lead for a bluegrass and country band. Ethan's lessons offered me a wide repertoire of vocal exercises, advice from someone with extensive gigging experience, and a chance to feel proud of myself when I started to notice progress. These days it takes much longer to experience vocal fatigue when I am performing, and the exercises we have been doing have allowed me to approach new material with confidence and creativity. Apart from the specifics, Ethan also offers very reasonable rates, takes his work (and yours) seriously, and is good at making his pupils comfortable even during exercises that would make anybody sound like a drunken mule. I recommend him for singers at any point in their career, and I recommend him for at least four or five month-long cycles so you can get to appreciate his method and approach."
- Daniel Postilnik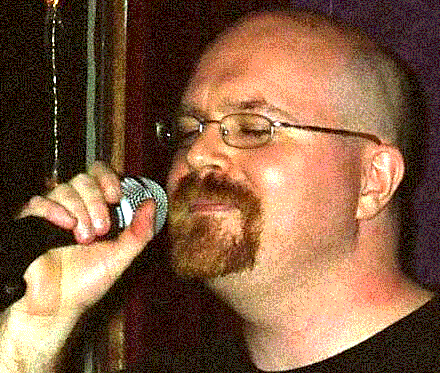 Hours/Booking:
Teaching Hours: Mon-Thur noon-9pm
E-mail for availability (time/location) during these hours.
To book a lesson, please provide your available days/times, preferred location (my studio, your space), your cell phone number, and home address for confirmation purposes. I will call/e-mail with proposed lesson times based on my availability at your preferred location.
Rates/Payment Methods:
In-Studio (South Shore neighborhood of Chicago, near Hyde Park) rate is $160/month. (4 hour-long lessons at $40/hr)
Lessons at your home or practice space are available at different rates for different lesson lengths: $240/month (4 hour-long lessons at $60/hr) and $160/month (4 half-hour-long lessons at $40/lesson).
I accept cash or check. Full fee is due at the first of each 4-lesson "block."
Cancellation and Promptness:
Students must give a minimum of one day's (24 hours) notice or more to re-schedule, or the lesson will be considered missed. There will be no refunds for missed lessons, and any re-scheduled lessons must take place within 28 days of the pre-payment. Re-scheduling is subject to availability.
The lesson starts and ends at the scheduled times. If you're 15 minutes late, you still pay for the full hour and the lesson ends as scheduled.