Artist and Illustrator
I work with pencil, charcoal, pastel, conte crayon, guoache, oil paint, and pen and ink. I have done portraits, still lifes, nudes, landscapes, technical illustrations, cartoons, and many other types of drawings and paintings. Contact me to discuss commissions.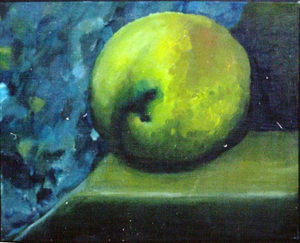 A Few Past Clients:
Sheaffer International is an engineering firm based in Wheaton, Illinois. My rendering illustrated the facility's unobtrusive visual profile and helped the firm win the contract with the University of Pennsylvania's New Bolton Veterinary Center.
HealthQuiz was an internet-based patient self-administered health history questionnaire. I created illustrations and logos for the product and the promotional materials. The product was adopted by hospitals and clinics throughout Chicago.
Happy Butterfly Foot sought a quirky and personal logo and design for its web presence and print promotional materials. The web site and other promotional materials have enabled the band to maintain and promote a steady schedule of performances.
Kennett Paper is the local paper in Kennett Square, PA. I was hired as a freelance editorial cartoonist and illustrator while still in high school. I secured the job as a result of winning awards for my work from the Columbia Scholastic Press Association.